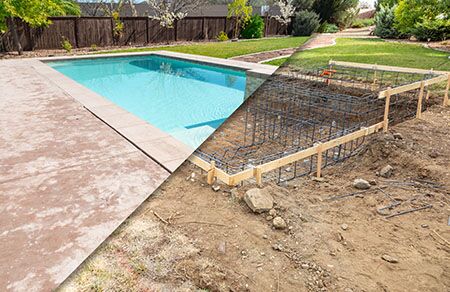 A pool is not cheap, and with each new feature you add, the costs get even higher. Create a pool that is going to serve as a relaxation and exercise spot for you. A spot that is going to host a few parties, and a pool that your children or grandchildren are going to have a lot of fun in. A pool is simply beautiful because it is more than just blue water. If you're going to make that commitment, then why not hire the best team to ensure you get the pool of your dreams. Pool Spark Sugar Land is the choice to make.
At Pool Spark, we are full of creative people who can't wait to hear the big idea behind your pool, so let us help you create the pool of your dreams… literally. We love a challenge and will never back down from building the next coolest pool in Sugar Land. That is what sets us apart from the competition, they are set in stone with their methods but with Pool Spark, you get to experience the versatility and flexibility that allows you to create a pool through our hands as the best pool builders.
Contact Our Pool Builders in Sugar Land TX Now!
You're the boss here and we are always listening to you and your vision for your pool.
Left to our own devices, we are beyond amazing and if given the chance, we will transform your pool space into something you've never seen before. Although that defeats the core of our mission, which is to listen closely to you and take that concept out of your head straight into your back yard or wherever you are, we also add our creative spins to your personal designs. Whether you're working on a budget or you have the big bucks to spare, we have superb packages that take the guesswork away, because we let you know exactly what you're paying for and why. We build our confidence on the reputation we have earned as the pool maintenance company homeowners trust most, so we won't disappoint.
Your satisfaction is our utmost goal because your pool is going to be around for a long time and if you let us maintain it as well, then it's going to stay in good condition. We know you must have a lot of questions and ideas about the pool you want us to build for you and we're here to answer all your questions. Our team is always available for you to call and speak with and we are more than willing to put you through the motions and provide an estimate for the whole nine yards. We look forward to showing you why we're the best team in the area.